Thank you to
Am I Cute or What?
for awarding me!
Rules:
Thank the person who awarded you
Answer their questions
Nominate at least 5 other doll blogs you love
Notify them they have an award
Leave them at least 5 questions to answer
Well, that doesn't look too hard! Here are the questions I was given:
What was your first doll? (AG or otherwise)
My first American Girl doll was my lovely Molly.
If you had to name one of your dolls after a character from a movie or a book, who would it be and why?
I named my #13 Wendy because I really, really love
Peter Pan
.
Who is your favorite Girl of the Year doll?
Lindsey all the way.
What is your favorite Historical AG outfit?
Hmmm... I've always been partial to Molly's polka dot dress
... but I really love her entire collection. My grail is her victory garden dress: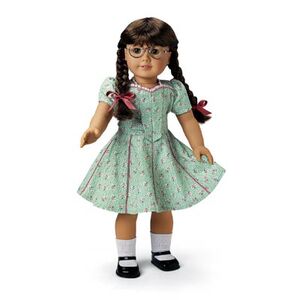 American Girl Wikia
I also love all of Felicity and Elizabeth's clothing.
Pinterest
What is your favorite thing about having a doll blog?
Sharing pictures and projects with the world and getting feedback from people who love what I love.
Now for my nominations!
I nominate:
Hannah (beast'sbelle) (via)
Your questions:
1. How long have you been blogging?
2. What is your favorite post that you've written/ photographed?
3. What is your favorite historical American Girl (if you have one)?
4. If you could take pictures of your dolls anywhere, where would you go?
5. What do you see in your blog's future?
Thank you again, Am I Cute Or What?!!